Ok where to start. Wendy is incredible. She's organized, communicative, knows the entire process, and has the absolute best wedding spot. We decided to get married quickly and had a last minute change and Wendy not only accommodated everything but made getting married the easiest thing we did. 1000% recommend her. If you want to do any type of ceremony she is the best wedding officiant who just happens to also be a notary public. Best at both!!
Sarah J. ——–Yelp Review 04/12/2021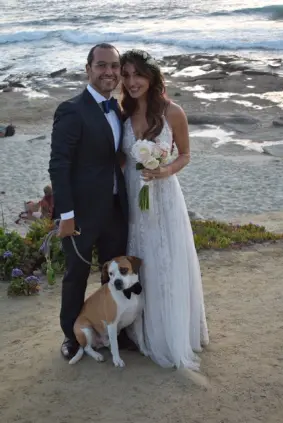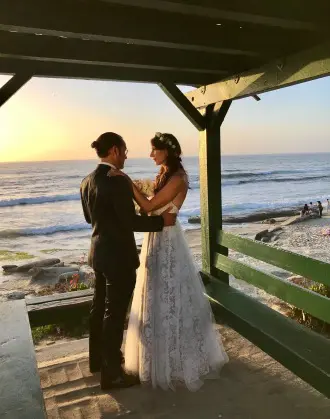 Wendy is extraordinary! She helped us prepare the documents and paperwork, keep everything organized. She replies very fast. She is professional and pays attention to every detail so that we had a smooth wedding ceremony. She told me to arrive earlier to take pictures in advance, allow more time for parking, and even reminds me of taking a jacket! Plus, she is super nice to our dog. Can't think about a single reason not to recommend her!
诗菡——-Yelp Review 03/17/2021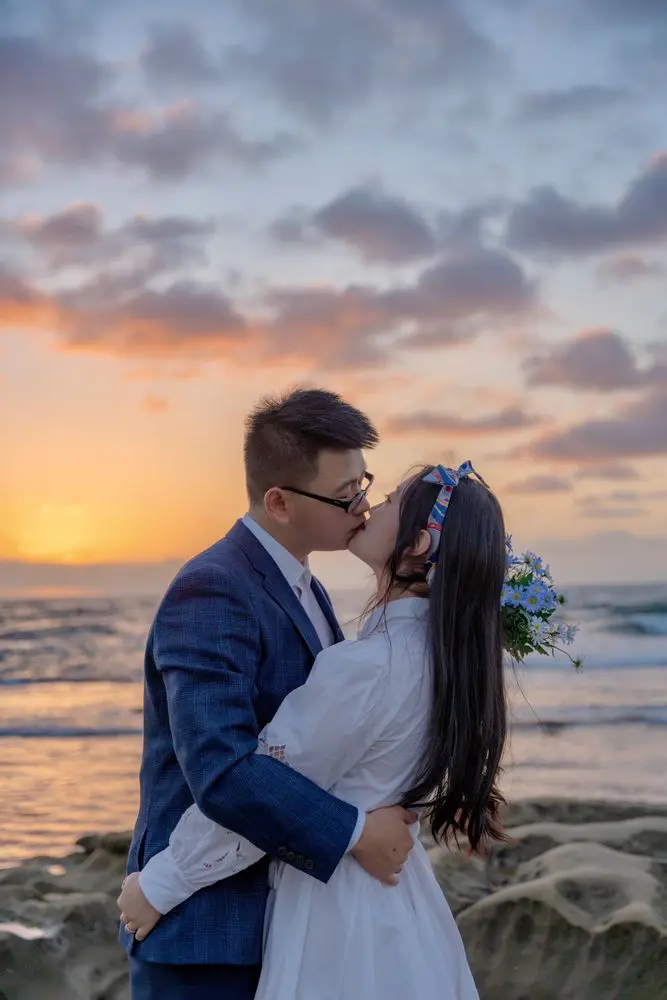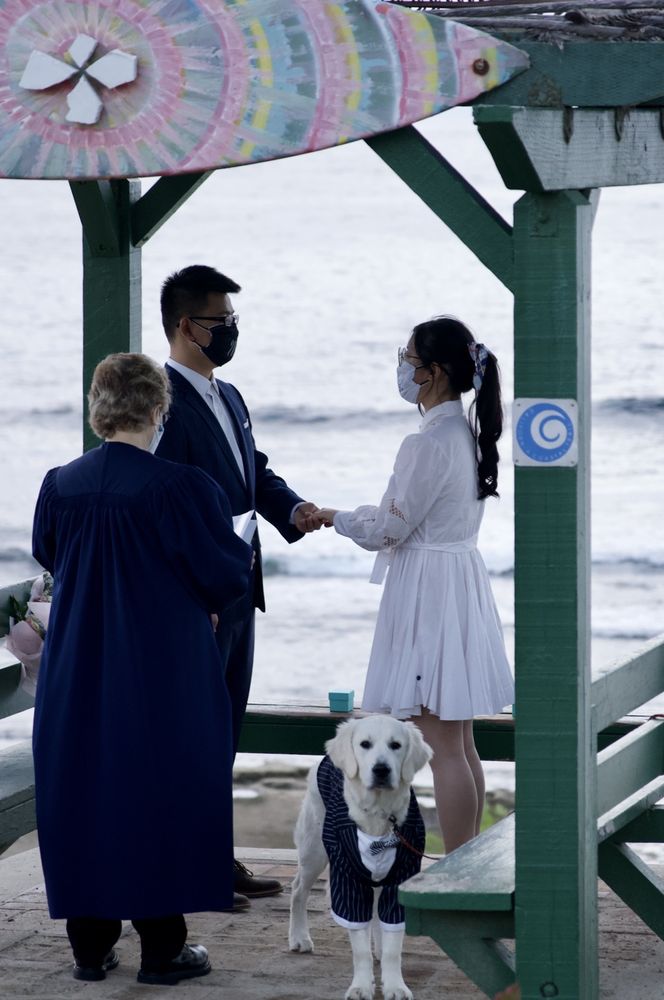 Wendy is wonderful!! She walked us thru all of the pre-lims with the grace of the all American pro that she is. Her suggestions of having rings and personally done pledge of love and devotion were great. Those two touches added so much to the entire event. She took care of everything including a collection of great pictures that we will treasure forever. She is the absolute best. Terry——-Yelp Review 02/21/2019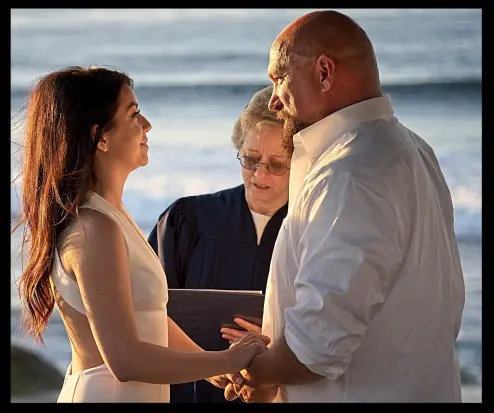 Wendy is amazing! We put our wedding together last minute and we could not have done it without Wendy! She was so helpful with the entire process and made sure our wedding day was absolutely perfect! Lacy ———Wedding Wire Review 12/29/2018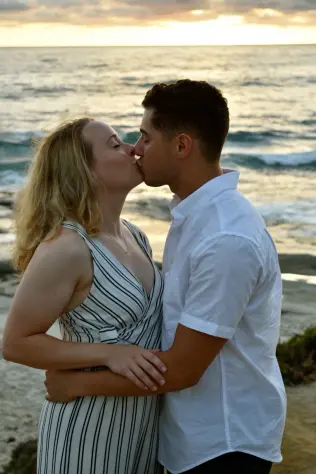 Just Married San Diego was fantastically efficient, reasonably priced, and stress-eliminating. Wendy is incredibly knowledgeable and responds at lightening speed in reference to questions or document corrections, working 7 days a week! The ceremony was beautifully natural/minimalist, taking place in a gazebo overlooking a La Jolla sunset. Very relaxed, very calm, very professional. It was the simple, stress-free ceremony I had dreamed of.
Clare———Wedding Wire Review 07/21/2018
We did a destination wedding (sunset) in La Jolla on 5/27/17. We could not have asked for a better ceremony. We had spoken to several Wedding Officiants but Rev Wendy won our trust because she was so helpful, explaining everything from wedding license to ceremony. She was so professional, timely and extremely diligent with the licensing. She advised us into making some smart and sound decisions (like beach location, ceremony start time so we would get great sunset pics, how to obtain a marriage license during a major holiday, etc…..). The ceremony itself was perfect for us. I'd highly recommend Rev Wendy. Jon L.———Yelp Review 6/6/2017
Rev Wendy is the best! She married us on the beach with a beautiful ceremony. It was exactly what we wanted! She helped me with every step of the paperwork, from getting our license to dropping off the paperwork with the county. If you want your wedding to be easy and stress free go with her!
Julie W. ——-Yelp Review 05/07/2017
The day of my wedding in San Diego, I forgot the Marriage License at home in Huntington Beach. We had all of our guests waiting to witness the ceremony and Wendy saved the day by performing a mock ceremony for our guests but without saying the words that would legally marry us until I retrieved the Marriage License later that night. Wendy saved my ass when she legally married my wife and I later that night in a FedEx Office in La Jolla. We maintained the same wedding day on our Marriage License and made quite a scene at 11:45pm at FedEx Office as patrons continued making their copies and presentations as they witnessed our (actual) wedding ceremony. Wendy is a very exact person. She will require that all paperwork and information is correct with no line-outs or mistakes or smudges on the official documents. The benefit to that is we received our requested (5) copies of our Marriage Certificates less than one week following submission by Wendy. We had friends marry one month before we did in the County of San Diego and they received their Marriage Certificates six weeks following their ceremony. We had our Marriage Certificates before our friends! I highly recommend Wendy. She is accommodating, fun and seems ready and eager to help regardless of the situation. THANK YOU WENDY!!!!
Joseph R. —–Yelp Review 09/26/2016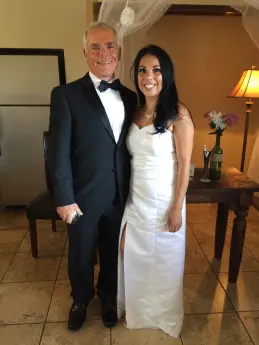 Wendy was GREAT! We called her a week in advance to do our wedding and she was very flexible with dates! She also dealt with all my indecisive plans about where to hold our very small ceremony. Wendy was structured and very easy going and personable! Thank you for making our wedding a breeze. I am glad you were our officiant to something so meaningful and intimate.
Sho B.—-Yelp Review 4/9/2016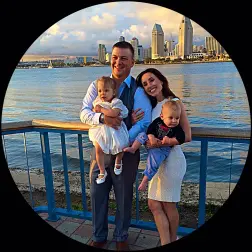 Wendy was amazing! Our wedding day, actually week, started out pretty hectic. We were 1 hour or so late due to a series of very unfortunate events, one of which, our original officiant was unable to marry us which we didn't know until the night before the wedding. Wendy was contacted and she came to the rescue! Wendy was waiting for me when I arrived. I had been so frazzled by all the stress and panic from that day. Instantly Wendy made all my worries go away. She had a calming way about her. The ceremony was beautiful! We can't thank her enough for making it such a wonderful experience. I must also mention how great she was with our dog who was part of the wedding. She was so good with him there, he just laid in between us at the alter. We were amazed at how calm he was. We were extremely happy about that. I posted a pic to show how great she was with him. Thank you Wendy!!!! Really, thank you for making our wedding ceremony what it was. Perfect!
Jenny K. —-Yelp Review 5/2/2015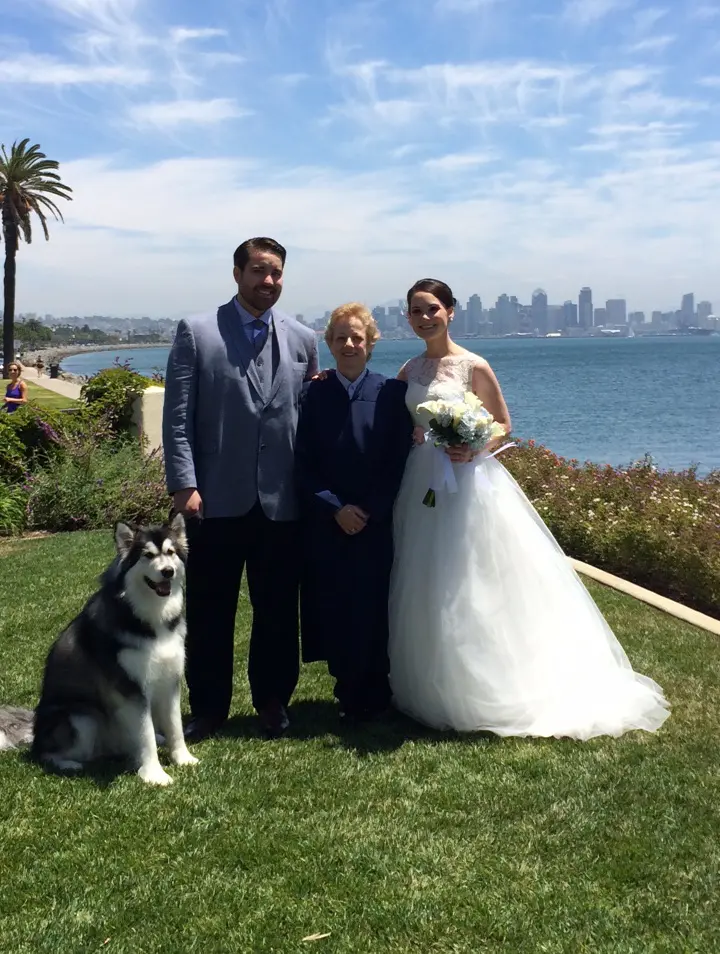 My wedding day couldn't have been more perfect – mostly because of Wendy! I called her on a Thursday, for a Saturday wedding. Not only was she able to accommodate my partner and I (driving from Vegas) but she took the few words I gave her over the phone describing our relationship, and wrote vows that I'm sure even I couldn't have written. They were beyond perfect. She was very "go with the flow" when we got to the location. She worked around my desire to take 964,532 pictures before the ceremony, and was more than happy to move to whichever location I wanted. She made us both feel very special, and our wedding day was exactly what we wanted. WE are forever grateful to her 🙂
Jennifer M. ——Yelp Review 2/17/2014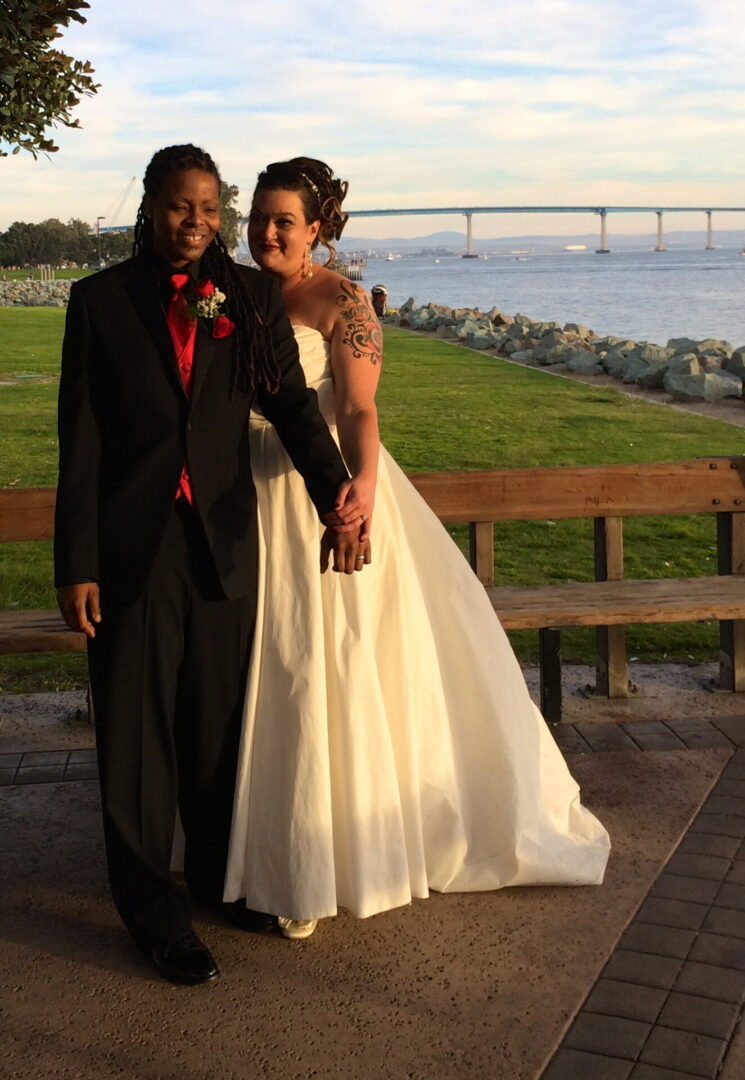 Planning a wedding from Florida was wonderful. Wendy and I worked together. We made this day not just getting married to a Wedding with great memories. Wendy performed a wedding to smile at with the ocean as a background and family and friends to enjoy. Thank-You for the help to make this a special day.
Nancy K. ——-Yelp Review 9/17/2015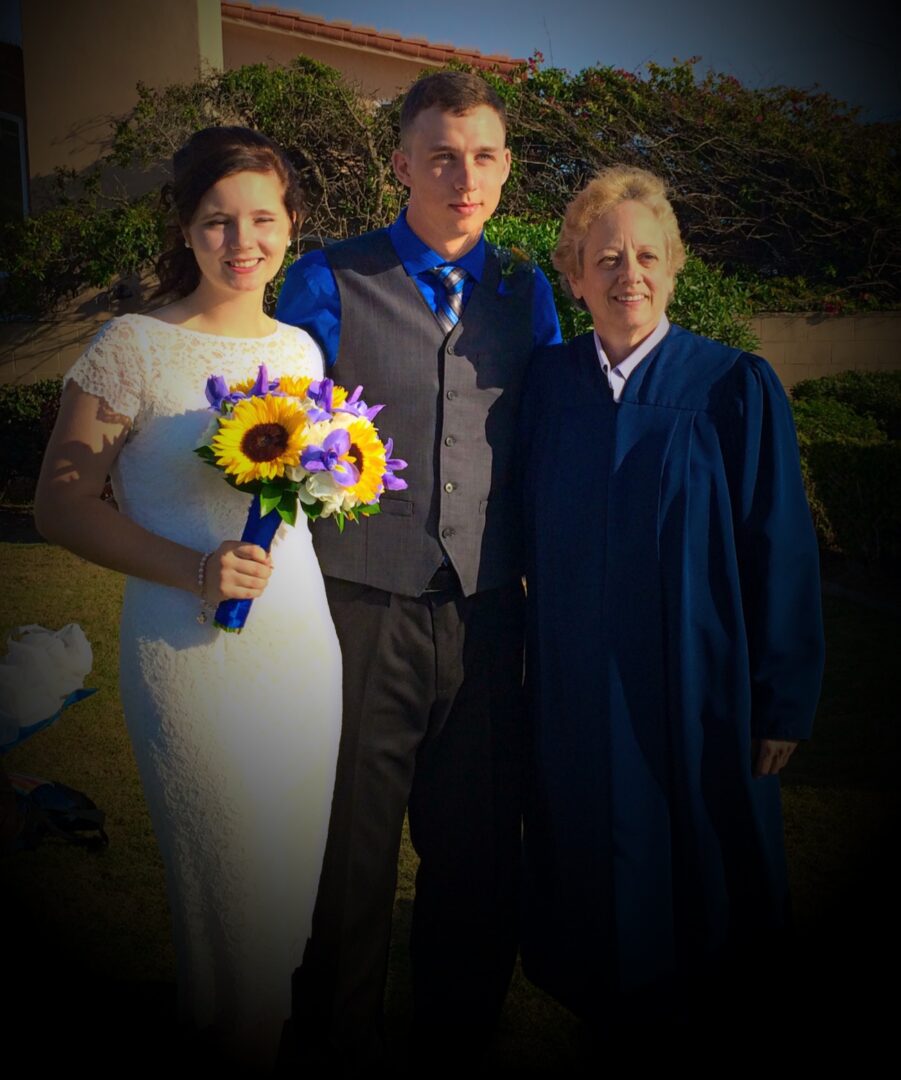 Our wedding was exactly what we wanted: Something intimate, effortless and very meaningful to us. And we owe it all to Just Married San Diego. After many years together we finally decided to get married. We called Just Married San Diego and after speaking with Wendy we knew this was the best alternative. She explained the steps and paperwork needed in detail and along with her notary teammate we were guided throughout the whole process. Wendy was so attentive and personable, and even helped in recommending a beautiful setting for our ceremony. In the end, You only keep the memories. Why remember stressing out or wasting hours at the County Clerk's office? Thanks to Just Married San Diego all we have is fun memories of a day filled with love and laughter. Thank you for making our day so wonderfully perfect.
Lissette and Alex ….Yelp Review 9/4/2014
As parents of the bride we were exceptionally pleased with the way our daughters wedding was conducted. It was done with a great deal of respect and thought and totally in accordance with the couples wishes. It made the day very special for them and those of us who watched the ceremony. Rev Wendy took time to talk with the couple to get to know them and get an idea of how they met and what they wanted in the ceremony and accommodated everything they asked for. We would highly recommend Just Married San Diego. Thank you Rev Wendy.
Diane B.—-YP.com 10/24/2016